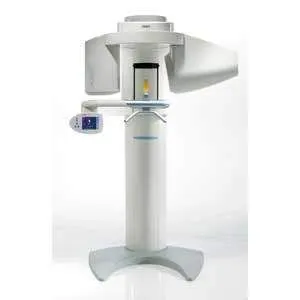 Cove Dental Care provides the latest in modern dental technologies, including the GALILEOS 3D Cone Beam Scanner.
This advanced machine is able to perform a complete dental scan in as little as 14 seconds. Another distinct advantage
to this machine over traditional dental scanning devices is the automatically generated panoramic reconstructions, which
make the scanning and diagnostic process much easier for both Dr. Getz and our patients.
The GALILEOS 3D Cone Scanner uses cone beam volumetric imaging to produce very high quality dental imaging. The
superior level of detail provides a clear and precise view of all teeth, roots, gum lines, and defects or imperfections. The
GALILEOS 3D Cone Scanner is simply the best, most reliable dental imaging device available.
In addition to the GALILEOS 3D Cone Scanner being much quicker and efficient, it is also very comfortable for our
patients. Patients are able to sit or stand comfortably within the device and holster themselves according to the pivoting arm
for precise positioning and maximum comfort.
Although the GALILEOS 3D Cone Beam Scanner is used for many purposes, we focus on installing dental implants using
this 3D guided system. Along with many other Dental Professionals, Dr. Getz believes the GALILEOS 3D Cone Beam
Scanner is the most advanced, safest way to install dental implants.